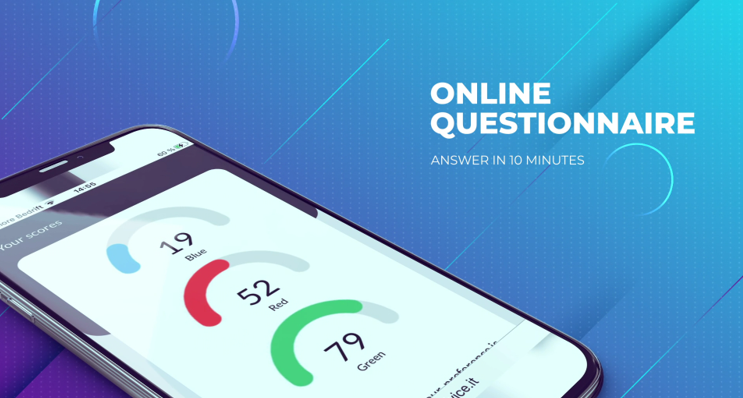 The questionnaire (online)
Available languages
English, German, French, Italian, Spanish, Norwegian, Danish, Swedish, Finnish, Polish, Chinese, Russian, Arabic, Hebrew and Sami.
Short description
It can be used on mobiles or PC/Mac – in real time during the workshop or beforehand. The scores are calculated automatically at the end and presented graphically (as you can see above).
Advantages of the DI online version:
An easier to use response format and more intuitive, visual presentation of scores
Scores are calculated automatically (less demanding for participants and saves time)

Group profile with three different statistics views included in the price. It is updated live for the entire group, which allows you to keep track of how many participants completed the questionnaire. It also provides information about how many participants of each color there are in the group (great help when creating one-color groups!)

You can upgrade to the Premium feedback
You can split the group profile in different subgroups
You can add extra questions about either stress, psychological safety, or trust.

Smaller climate footprint than physical material and shipping
You can conduct a virtual or hybrid workshop where participants do not meet face-to-face
You receive your order almost immediately after purchase
No shipping cost

More possibilities
Read about more possibilities on this page.
Price
Go to www.divorder.com to see prices and for placing your order. The survey is active for 3 months from ordering unless otherwise agreed.
How does it works?
Does this seem interesting?
Go here to see the rest of the presentation.
Back