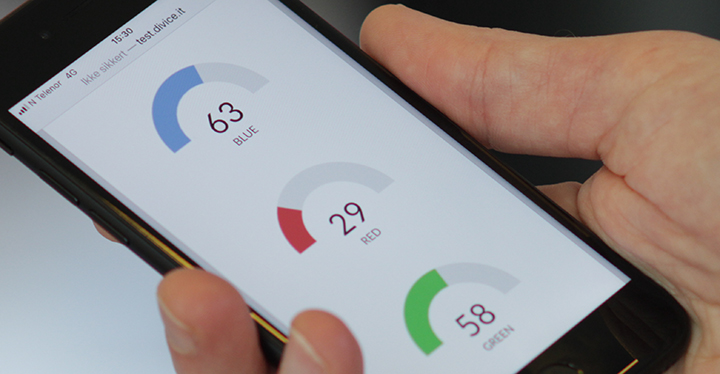 The questionnaire (online)
Available languages
English, German, French, Italian, Spanish, Norwegian, Danish, Swedish, Finnish, Chinese, Russian, Arabic and Sami.
Short description
It can be used on mobiles, tablet or PC/Mac – in real time during the workshop or beforehand. The scores are calculated automatically at the end and presented graphically (as you can see above). The primary preference is the colour you score highest. Average is 50.
When is the online version a better choice?
you conduct a virtual workshop where participants do not meet face-to-face
your organization/client expects a digital solutions (e.g. for environmental reasons)
you want a response format and presentation of the profile that is simpler and more visual.
participants have good internet connection and a smartphone, tablet or PC available.
you want a group profile for all participants immediately after everyone has answered and keep track of how many have answered.
you must get started immediately and can not wait for physical delivery.
Read about more possibilities on this page.
Price
The pricing for the online version is the same as for the paper materials. The survey is active for 6 months from ordering unless otherwise agreed. You can order the online version in the order page: www.divorder.com
How do the online version works?
Go here to learn more.
Back